Jessie Gwynne Promoted to Risk Advisor
We are very pleased to announce the promotion of Jessie Gwynne to the role of Risk Advisor at Iridium.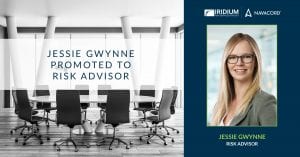 Jessie joined Iridium in 2012 in the role of Administrative Assistant. Over her time at Iridium Jessie has held increasingly senior positions, including most recently, the position of Risk Consultant. Jessie graduated from the University of Calgary with a Bachelor of Fine Arts (BFA) in Design and Visual Communications in 2012. She is a member of Young Women in Energy and is working towards her Canadian Risk Management (CRM) designation.
Jessie's promotion to the Risk Advisor role is a reflection of her continued dedication to Iridium's core values, the valuable relationships she has built with clients, in the domestic and international insurance marketplace, and her expertise in our sector.
Please join us in congratulating Jessie on her promotion!